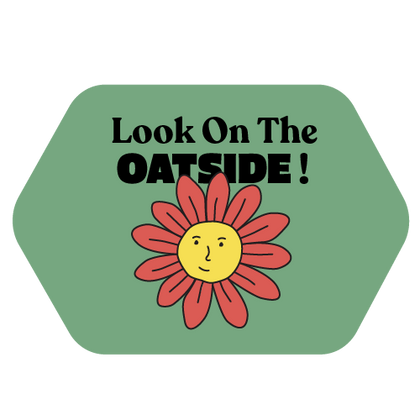 Welcome to the OATSIDE of Life
Real

100% Roasted Australian oats, Sulawesi cacao, and Turkish hazelnuts. 100% plant-based, no added flavors, gums, emulsifiers.

Sustainable

70 % less emissions, 90% less water, and 90% less land use than dairy milk. 100% Rainforest/UTZ-certified cacao and hazelnuts.

Good For You

Contains beta glucans for digestive and heart health, high in calcium, no saturated fats, lactose-free, and less sugar.

Delicious

Maltier, creamier, and perfectly balanced.
Approved by Cool Bears
"I used to be skeptical about plant milks as they tend to overpower the coffee notes, and falls short on texture and foaming. I was really surprised when I tried OATSIDE, the barista blend is creamy and malty and yet neutral enough that the coffee character shines through."

"Malty and creamy, minus the thick viscosity, OATSIDE's oat milks go well with just about anything."

"With coffee, the delicate oat notes don't mask or alter the coffee notes while it steams well to create a beautiful microfoam to deliver a stellar cup of latte. A feat that most plant milk failed to achieve."

"A kid's fave! Proudly created by a Singaporean. A really creamy (dreamy) oat milk that I have recently switched to!"

"[OATSIDE] isn't just Singapore's first oat milk but also one of Asia's only "full-stack" food start-ups. [...] Operating full-stack, this allows optimal control over the oat extraction, with oats sourced from Western Australia."

"We have to say, we took a blind taste test against other barista blends of oat milk and OATSIDE won by a landslide: it held its own with a creamy and rich flavour profile, and went down just as smooth on its own as it did in toasty teas like Hojicha and nuttier coffee blends."

"Chocolate lovers can try its chocolate variant, which features a dark, rich and complex blend made with 100 per cent Rainforest Alliance certified Indonesian-African cacao beans. This blend packs a chocolatey punch while eliminating the use of added flavouring."

"I love how it has a subtle milky finish and, although not a huge caffeine drinker, it made me enjoy my cup of Joe. I do have to highlight, the creaminess gave body to my cuppa, but also took a back seat for the coffee in my latte to enjoy the centre stage."

"It's creamy and malty as hell, definitely not what I would expect from something plant-based."

"It's great with a wide range of products, from latte to curry and I even added it to my fish soup and smoothies!"

"OATSIDE focuses on sourcing the highest quality ingredients: oat from Western Australia is chosen for its nutty, malty tasting notes to appeal to discerning palates. [...] Additionally, it has the physical quality of being frothable - something that is conspicuously absent from other plant-based milks - creating a silky, dense microfoam for latte art."

"So you want to do your
part to save the planet but hate the taste of watered down plant-based milk alternatives? Fret not, as [OATSIDE] is serious about flavor."

"Coming from someone who is lactose intolerant, and has tried a lot of alternative milks, OATSIDE stands out even when compared to other nut-based milks. It has the right amount of sweetness and a smooth velvety texture that is truly satisfying."